Description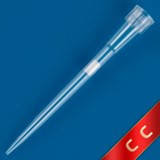 Description
One of the leading filter pipette tips manufacturers in China for more a decade, GeneFollower entered the market with filter pipette tips. Thanks to our years of experience, we know how to manufacture high quality but cost-competitive filter pipette tips.
As these aerosol barrier pipette tips are universally compatible, you can use them with leading pipette brands such as Eppendorf, Gilson, Thermo Fisher Scientific, and CAPP. These purity barrier pipette tips are aerosol resistant and prevent cross-contamination during PCR. That's why researchers often use filter pipette tips.
Currently, GeneFollower supplies eleven different types of filter pipette tips, including 10ul, 10ul (long tip), 10ul (only for Finpipette), 20ul, 50ul, 100ul, 100ul (long tip), 200ul, 1000ul, 1250ul, and 5ml.
Features – Benefits
As the filter inside the pipette tips is made of porous plastic material, it stops aerosol formation and allows only the sample to pass. However, we also have self-sealing filters that stop all liquid (below the filter) from passing once water touches filter.
We have a Class 100,000 clean room for manufacturing universal pipette tips. Our smart production line ensures minimal human contact to create sterile pipette tips. Thus, these filter tips are free of DNase, RNase, human DNA, and endotoxins.
The filter rack comes with color-coded labels, making it convenient for you to use them.
For more specification, click here