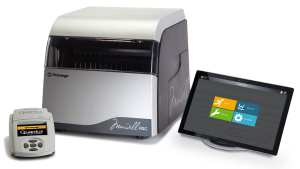 Maxwell RSC Instrument, Promega (USA)
Maxwell RSC System (AS4500) with ASB1330 Maxwell  RSC Viral TNA Kit
Features :
CDC Protocol Recomendation.
Up to 16 samples per run.
Can be run minimum 1 sample/run.
Running Time : 35 minutes.
Integrated with Quantus Fluorometer for sample quantification.
Reduce possibility of contamination.
System controlled via Tablet PC.
Can be use for other sample types.
High purity.
Included with UV Lamp for instrument decontamination.
Do not need to move the eluent into separate tubes after extraction.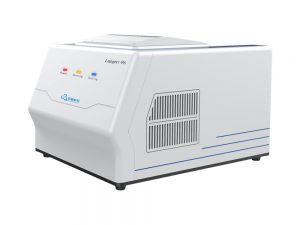 Lepgen-96 realtime pcr system 
Real Time PCR Machine with capacity 96-well
Features:  
AKL 20304120550.
Optical detection wavelenght 300-800 nm.
4 channel detection.
Run up to 4 target genes in the same well.
Pre-calibrated dyes: FAM, SYBR GREEN, HEX, JOE, VIC, TET, ROX, TEXAS RED, CY5.
Compatible both with low and standard 0.2 ml tubes.
Heating and cooling rate: 5C/s.
Thermal accuracy and uniformity <0.5°C.
Temperature range 4°C – 99°C.
application: genotyping by qualitative, absolute quantitative, standard solution curve, relative quantitative and endpoint method.
PCR Kit 3DMED Sars Cov-2 RT-qpcr detection kit (AKL 20303125593)     
Feature :   
Target Gene  : ORF1ab (FAM), N (ROX).
Internal Control : pseudovirus (co-extract).
No cross-reaction with other pathogens commonly found in respiratory tract.
LoD : 200 copies/ml.
*Term & Condition
Chat for more information
Receive Promotion Update
Be the first to know