Recording Webinar The Dynamics of Compound Profiling: Using Signaling Kinetic Assays to Shape Early-Stage Drug Discovery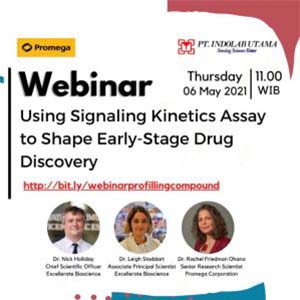 06/05/2021
The Dynamics of Compound Profiling: Using Signaling Kinetic Assays to Shape Early-Stage Drug DiscoveryIn vitro early-stage compound profiling often focuses on single timepoint measurements of drug action. However, in vivo, drug action occurs not at equilibrium, but within a highly dynamic system. This webinar will explore how measuring the kinetics of drug-target interaction and signaling can help optimize functional compound properties, using NanoBRET™ and NanoBiT® technologies. The webinar will include a panel Q&A session after their presentations.
You will learn about:
Realtime measurements of binding and signaling kinetics
Mapping therapeutic efforts to patterns of downstream cellular signaling over time
Studying signaling kinetics at an early stage to inform lead optimization
Registration link : https://bit.ly/3xNg25e
                             Free Registration
Trackbacks and pingbacks
No trackback or pingback available for this article.
Receive Promotion Update
Be the first to know
Product Category List