Recording Webinar Making a Long Story Short: Quick Bacterial Diagnostics with High-Molecular Weight DNA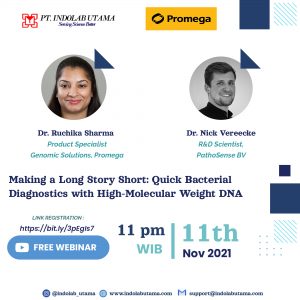 FREE PROMEGA WEBINAR
Date : 11th November 2021
Time : 12 pm (Singapore)/3 pm (Sydney)/1 pm (Seoul)/9.30 am (New Delhi)
Bacterial diagnostics in human and veterinary medicine relies mainly on bacterial cultures or targeted short amplicon PCR-based test. Culture-based assays are often time-consuming or restricted, while molecular assays provide a quick output. Combined approaches are required to deliver answers on species identification, typing, and antimicrobial susceptibility testing (AST). In this webinar, Dr. Nick Vereecke will present how High-Molecular Weight (HMW) DNA shortens the diagnostic workflow by allowing fast production of complete, high-quality bacterial genomes for all-in-one sequencing-based bacterial diagnostic tests.
You will learn about :
The importance of High-Molecular Weight (HMW) nucleic methods in pathogen genomics
Use & application of long-read sequencing in bacterial diagnostics
Implementation of genomics in innovative all-in-one bacterial diagnostics.
FREE Registration link : https://bit.ly/3pEgIs7
Receive Promotion Update
Be the first to know
Product Category List