Webinar (IU-TALKS) bekerjasama dengan RC-GERID ITD UNAIR dengan tema "Metode Pengujian Senyawa yang Berpotensi Sebagai Antivirus" yang dilaksanakan pada tanggal 28 July 2022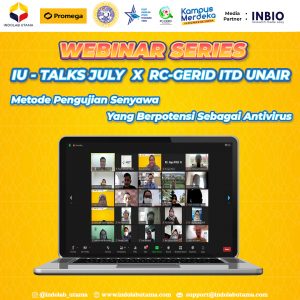 PT. Indolab Utama bekerjasama dengan RC-GERID ITD UNAIR dan Promega menyelenggarakan Webinar dengan Tema " " pada hari Kamis, 28 July 2022.
Pemateri dalam kegiatan ini adalah , ., ., . yang menyampaikan materi mengenai Strategi Penghambatan Infeksi HIV Menggunakan Nanopartikel Carbon. Selain itu ada juga , . beliau menjelaskan mengenai Introduction Application of Promega Technologies to Virology Research.
Receive Promotion Update
Be the first to know
Product Category List